Washington DC, 2017, and the War on Christmas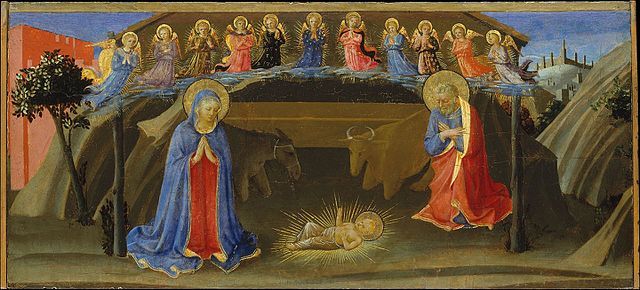 [This piece was published on the original Home Yesterday in December, 2017.]
Now when Jesus was born in Bethlehem of Judaea in the days of Herod the king, behold, there came wise men from the east to Jerusalem. . . ."
Two thousand and seventeen years later, in Colorado, pregnant women due in February were told they may lose their insurance before their babies are born. In Virginia, the parents of 68,000 children received notice that those children would likewise soon be on their own.
"And she brought forth her firstborn son, and wrapped him in swaddling clothes, and laid him in a manger; because there was no room for them in the inn."
In our country, nearly two million children are homeless. In West Virginia, one in every four children lives below the federal poverty line, an amount that itself represents only about half of what is needed to meet basic needs.
". . . the angel of the Lord appeared to Joseph in a dream, saying, Arise, and take the young child and his mother, and flee into Egypt, and be thou there until I bring thee word: for Herod will seek the young child to destroy him. When he arose, he took the young child and his mother by night, and departed into Egypt."
In July, the U.S. government deported a father of four young Ohio children. He worked packing cookies for Peppridge Farm. 34,000 of his fellow citizens and a U.S. Senator begged to let him stay, but he was taken from his family, and ordered to go to Mexico.
"And, behold, there came a leper and worshipped him, saying, Lord, if thou wilt, thou canst make me clean. And Jesus put forth his hand, and touched him, saying, I will; be thou clean. And immediately his leprosy was cleansed."
That was long ago, in Galilee. But here in America, a young man died for lack of insulin he could not afford. He had raised a good deal of money via "GoFundMe," but in the end, he came up $50 short and died of ketoacidosis. Life expectancy is actually falling as the prescription drug crisis kills more Americans in a year than Vietnam did in ten.
You probably heard that the stock market is up. It is indeed way up. Its five-thousand-point gain on the year represents trillions of dollars — and each trillion is a million million dollars. Almost 40% of that money went to just the richest 1% of us and 80% of it went to the richest 10%. Nearly half of Americans are no longer in the market and got nothing at all.
It has been a wonderful year for wealthy people. Good for them.
But now it is Christmas. Who needs help, this Christmas? Could it really be the companies and people who were rich when the year started, and got even richer in the 2017 stock market boom? You may think the question answers itself, but then again, you are probably not in control of the US Congress.
This Christmas, our Congress passed, and the President signed, a one-and-a-half trillion dollar law that mainly lowered taxes on the wealthiest corporations and people.
The drug company Pfizer received a tax cut estimated at 38.8 billion dollars. Citigroup and Goldman Sachs — two companies that combined to create the 2007 financial crisis and then got bailed out, will net 15.2 billion. That's on top of their stock market gains for this wonderful year.
All the corporate tax cuts are permanent. The tax cuts for working people are temporary, and turn into increases a few years down the road. "In the long run, most Americans will see no tax cut or a tax hike." Needless to say, thirteen million Americans will lose their health insurance altogether.
And He said unto them, It is written, My house shall be called the house of prayer; but ye have made it a den of thieves.
The money being showered on fabulously rich corporations could make sure that mothers and their newborns have health insurance, medicine. Congress could afford to make sure that every child can see a doctor regularly. It chose otherwise.
When people die for want of costly medicine the drug companies always seem to be pricing a little higher, that's a choice the Congress has made. They decided that people who already have a billion dollars in the bank need another billion more than sick people need to go on living at all. Our country has the resources to heal people, but often does not, citing their lack of money.
Children don't have to live in poverty in America. It is a choice to allow that, and not all that unconscious a choice, either. There are thousands of rooms in our inn sitting empty — kept that way deliberately, until a sufficiently monied customer comes along.
Parents are afraid to send their children to school because those children might be American citizens, but their parents are not. Our government chose to make that so. Jesus and his family were refugees in Egypt. How would they be treated here, if they could get here?
There is a war on Christmas. Some people say it isn't real, but it is. It has absolutely nothing to do with what's printed on your coffee cup, or how we greet one another this time of year. The war on Christmas rages all year long. It is a war on the weak, the poor, the sick, and the stranger. It is always a war on children.
The war on Christmas is the war on Christ, the child – penniless, hunted and helpless. It is waged by the richest of the rich, who claim ever more for themselves, while children suffer for want of just a little. In Washington DC, two thousand and seventeen years later, it is as though the "wise men from the east" brought their gifts for Herod, instead of for the child.
Jesus wept.